Browse Our Wines
Willow Spring Vineyards is a vast farm situated on more than 20 acres of land; you are free to stretch your legs in the great outdoors during our open hours if you wish. While you will need to enter the store to pick up your purchases and show ID, online sales now allow for pre-purchased bottles packaged for pick up.
Willow Spring Vineyards specializes in French hybrid grapes which are suitable for our short growing period. (We are Merrimack Valley, not Napa Valley.) Each of our varietals was specifically chosen for its durability and sustainability with our cold, harsh winters. Our vineyards produce most of our wines. The grapes we do bring in are locally sourced.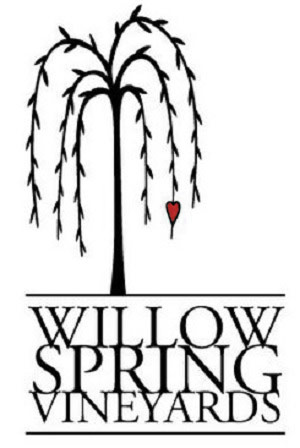 Concord
This sweet wine is made from New England native Concord grapes grown on our farm. Concord wine is fruit forward and reminiscent of grape jelly. Only 24 bottles of this wine were produced; it's sure to sell out fast!
ABV 11.5% | Not Currently Available
Indulgence
A sweet dessert wine, this Leon Millot is infused with dark chocolate.
ABV 13% | Not Currently Available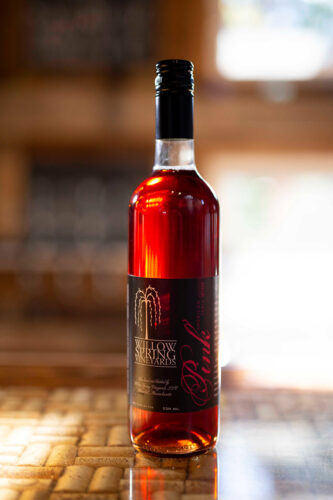 Pink
Our own rosé wine. Easy on the pallet with slight hints of residual red wine, this is a true crowd pleaser. Medium-bodied blend of three grape varietals: Leon Millot, Muscat and Vignoles.
ABV 11.5% | Available
Rhubarb
This slightly sweet with a tart finish wine is a refreshing taste. A surprising flavor profile, this rhubarb wine could pass for a true grape wine.
ABV 11.5% | Available
Chardonnay
Made with grapes grown on our vineyard, this 100% estate grown wine is unoaked and aged to perfection.
ABV 11% | Available
Seyval Blanc
Crisp, dry white with hints of lemon. | Sold Out | $19.99
ABV 11.5% | Available
Vignoles
Lemon-lime, green herbs and white flower aromas. Off-dry, this wine has only a hint of sugar.
ABV 11.5% | Available
Vidal Blanc
A white hybrid grape variety that is light light-bodied and delivers notes of citrus fruits. This dry white wine is a great compromise of red and white wine drinkers.
ABV 11.5% | Not Currently Available
Leon Millot Reserve
Light and rich, with notes of cocoa this estate grown wine is limited quantity.
ABV 13% | Available
Marquette
Limited edition. Full bodied with notes of chocolate and hints of oak.
ABV 13% | Available
Marechal Foch
This red wine is 100% estate grown. Aged in both oak and stainless, this dark full bodied red is earthy and spicy.
ABV 13% | Available
Leon Millot
Full and rich, with notes of cocoa
ABV 13% | Not Currently Available
Cabernet Franc
Cabernet Franc is the parent of Cabernet Sauvignon. A 2016 varietal, our Cabernet Franc has aged in oak barrels for 14 months. Medium bodied with aromas of dark fruit, mocha and spice this wine has a full mouth flavor with a lighter mouth feel.
ABV 12% | Available
---
Our Tasting Room is now open! April – December 2022, Tuesdays & Thursdays 4-8 pm. We do offer online purchases for pick up or delivery on our store page.
Wine CSA
The Willow Spring family believes in Community Supported Agriculture (CSA). As growers of our own product and members of many local farmers' markets, the feeling of community and supporting local is a wonderful way of life on the farm. We offer a Community Supported Agriculture (CSA) plan. Members receive a discount on bundles of three, six, or twelve bottles of wine for nine months, from April through December for a total of 27, 54, or 108 bottles. These wines are all our own, produced and bottled on site. Additional discounts will be given for additional bottles purchased on scheduled pick up days. Didn't get a chance to purchase from the start? That's okay: You can either purchase an entire share or the price will be adjusted for the remainder of the year. When choosing the entire share the additional bottles can be spread out through the rest of the year or get them with your first purchase. CSA shares can be purchased through September.
Buying Options
27 bottles total
54 bottles total
108 bottles total
Mixed Case (Red, White, and Specialty)
Three Bottles per Month: $474.00
Six Bottles per Month: $892.00
Case (12 bottles per month): $1,673.00
Red
Three bottles per month: $573.50
Six bottles per month: $1,079.50
Case (12 bottles per month): $2,024.00
White & Specialty
Three bottles per month: $430.80
Six bottles (three each per month): $798.75
Case (six each per month): $1,497.50
Contact Jade to arrange for pick up o your purchase. Must be 21+ to purchase and pick up. Additional (10%) discount available on additional bottles purchased on pick up day.